Welcome To
St Johns Boats
We are a boatbuilding and repair business in Essex specialising in wooden craft up to about 25 feet in length.
We work with both traditional and modern methods of construction.
In addition, we can make timber components and custom joinery for boats of all types including fibreglass.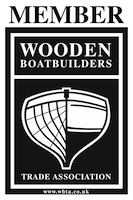 Laminated foils and tillers
This site will give you an idea of the work we do, so have a look around and if you think we can help, do get in touch.
Family boats for swimming, picnicking and fishing locally are mostly either RIBs which I have little to do with or solid motor launches, which come my way form time to time. Just ahead of one of the lockdowns a Plymouth 16 ( I think that's what it is) came to have its...
read more