Welcome To
St Johns Boats
We are a boatbuilding and repair business in Essex specialising in wooden craft up to about 25 feet in length.
We work with both traditional and modern methods of construction.
In addition, we can make timber components and custom joinery for boats of all types including fibreglass.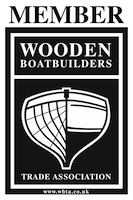 Laminated foils and tillers
This site will give you an idea of the work we do, so have a look around and if you think we can help, do get in touch.
In 1937 the Schleicher Rhönbussard was just about the state of the art in gliders. Things have moved on but there is a thriving vintage gliding community in this country and in the rest of Europe. Most of these aircraft were built in a combination of plywood and...
read more