Family boats for swimming, picnicking and fishing locally are mostly either RIBs which I have little to do with or solid motor launches, which come my way form time to time.
Just ahead of one of the lockdowns a Plymouth 16 ( I think that's what it is) came to have its rather tired and not very attractive seating replaced with something better. The owners also wanted a bulkhead under the foredeck to provide a storage area and the engine box needed some modification after the installation of a new engine.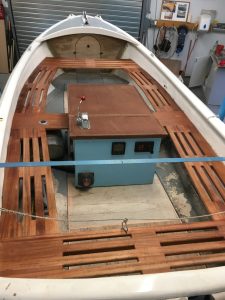 The seating was built in self supporting sections from some very tough Utlie timber so I hope it will last well and I am sure it will cope with being stood on and jumped on.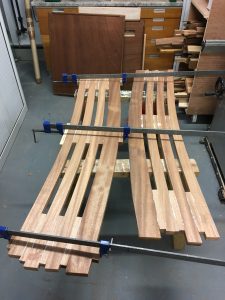 Curved benches like these have a nasty tendency to use up a lot of timber and leave a lot of waste. In order to avoid this problem I built up some wide boards and cut the curved slats nesting into one another. Spacers were then added and the whole lot jointed using jointing biscuits and marine glue.
We had a long discussion about the engine box lid and initially the owner favoured solid timber but at my suggestion we substituted some very high grade sapele plywood which will be lighter, more stable and need less maintenance. I think it looks just as good with its teak trim as a solid timber lid would have done.
Almost as soon as the first launch went out the door another one came in. This little double ender had been renovated and had a new engine fitted but needed some timber gunwales to finish it off.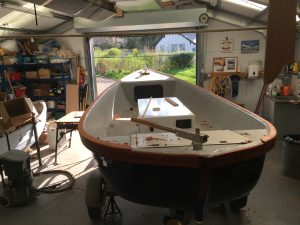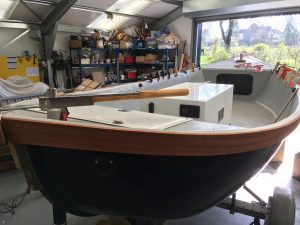 The timber is Kaya a West African mahogany. The outer plank was steamed into place and the capping strip cut to shape.
The woodwork is held in place mostly with a modern flexible structural adhesive.