Boat building involves a lot of transferable skills and from time to time this gets me involved in projects which have nothing to do with boats. Sometimes I do my best to keep out of this sort of thing especially when it starts to involve MDF, chipboard and similar manufactured boards which are really not much fun to work with.
Somewhere near the other end of the scale comes a huge hunk of laminated oak from the Appalachian mountains in the USA.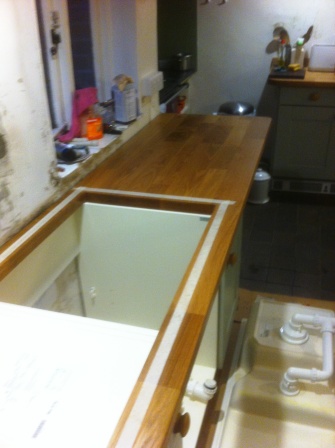 This worktop is 45mm thick and nearly three metres long, it came as a square edged slab needing cutting to length, the sink aperture cutting out as well as profiling the corners and edges. It took two of us to lift it and I lost count of how many times we had to turn it over so that the router was always cutting the right way of the grain. In spite of our best efforts at dust control we both looked a bit like snowmen by the end of the day and even my big Trend router had to work hard at times to cut this dense, close grained timber.