Natural England amongst many other jobs, looks after coastal nature reserves so inevitably they need boats.
This run-about GRP dory is definitely useful rather than pretty. It seems generally well put together but whilst the bow locker is nicely made out  of iroko, the stern quarter lockers whilst famed in iroko were mostly constructed out of interior grade laminate faced plywood. Sadly no-one had thought to provide the lockers with any ventilation, so not only had the ply de-laminated but the iroko frame had been destroyed by wet-rot.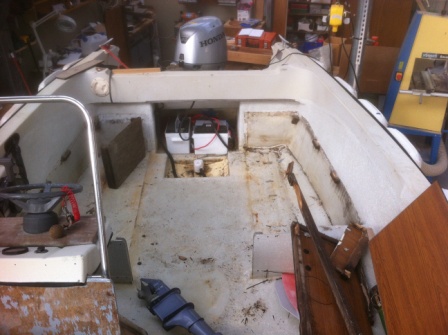 The only possible solution was to take the whole lot out and start again. In keeping with the rest of the boat the new lockers are functional rather than examples of fine joinery but I am confident that they will last better than the original ones and the customer is pleased which is the most important thing.