Designed by David Cannell of Wivenhoe and build by North Sea Craft, then in Norwich, the Samphire 26 has impeccable east coast credentials. In design terms she is one of several similar boats of the 1970's which can be somewhat unkindly described as the fatter derivatives of the Folkboat. Unfortunately several of the similar designs had various advantages and the Samphire was never a big seller, although the smaller Samphire 23 did quite well. It is a pity that these homely boats are not better thought of, they are tough and safe with a comfortable motion at sea and seaworthy enough to go on big adventures if you are not in a hurry.
Sarantina ( after the owner's granddaughters Sarah and Tina!) suffered the typical problems of Samphires; the artificial teak She-Dek was falling to bits, the plywood cockpit seats were rotten and the heavy Yanmar SB12 had shaken the engine mountings to bits and bent the prop shaft in the process.
Replacing the stern gear and shaft involved some interesting gymnastics in the aft end of the deep keel.
The She-Dek is more or less impossible to repair which is a shame as although it is not beautiful, it is impressively non-slip; the only real options are to paint it over of attempt to grind it flat and re-cover with Treadmaster or similar. Sarantina got paint!
The internal fit out of Samphires varies from the functional but not elegant factory fit to a wide variety of home finishes ranging from cabinet built to downright nasty. Sarantina was, I think a factory finished boat with reasonably well build plywood furniture with raw edges much in evidence. This was all left largely alone apart from re-fitting of the heads compartment to provide some storage when a Blakes Lavac was fitted.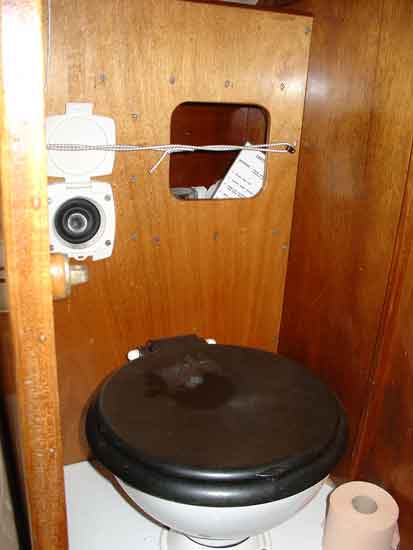 Above deck, rigging on the Samphires is determinedly solid and simple which combined with the sea-kindly hull means sailing hands off with a tiller line to windward is often possible. Sail handling was improved by conversion to slab reefing and head sail roller reefing.