Like many wooden boats Woozle's history is a bit uncertain but in any case she is an elegant little 12ft clinker dinghy which has been restored by the International Boatbuilding Training College in Lowestoft at some stage and she is an established member of the current owner's family. Since she is sailed on inland waters and the family are getting bigger it was decided she should have a bigger rig with the mast stepped in the bow and more room for crew.
it was decided to base the new rig on the sail plan of the International 12ft dinghy class which as a large single lug sail hoisted on a curved gaff with the mast set well forward. Since the international 12 is still an active class drawings and specifications for the spars are still available (in Italian for some reason!) so the plan was to follow the original pattern so that the sail details could also be used and a second-hand International 12 sail would fit.
Modifications on boats in fine condition are always a bit nerve-racking as lots of scope to make things worse. Still, the old mast partner came out without problems and better still could be cut down to fit in its new position supported by its original knees.
Although the original spars were Douglas Fir, the International 12 uses Sitka (Silver) Spruce and this was used for the new spars because of its superior strength to weight balance.
Good quality Sitka Spruce in spar lengths is becoming hard to get, this piece arrived accompanied by a slightly bemused courier driver who didn't understand he had been asked to deliver "this bit of old pine"; I tried to explain but I am not sure he believed me when I told him what it had cost.
As I have written before, I enjoy spar building, there is something slightly magical about conjuring three slim, light, shiny spars out of a large hairy chink of spruce. Especially when one of them has to have a curve in it which was a new experience for me.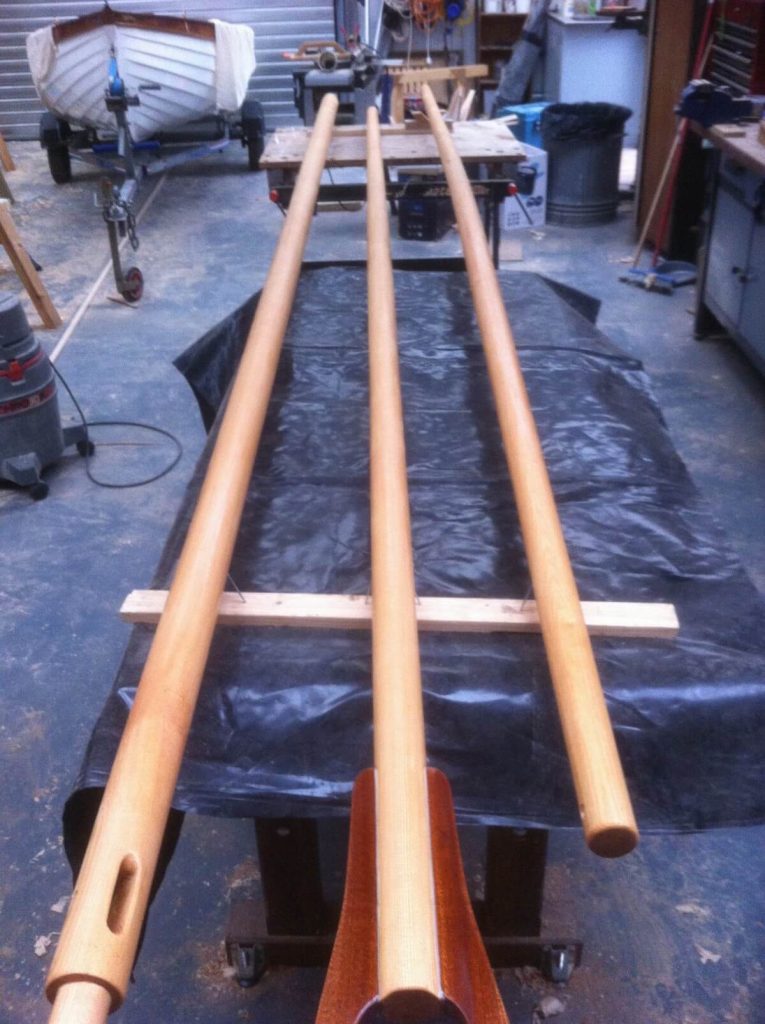 In all, I was quite pleased with how this little project went and more importantly so was the owner.